On Sale


Value Packs


New Products


All Products


Catalog


Store Location


Outlet Store
Machinist's Calculator



lmscnc.com/calc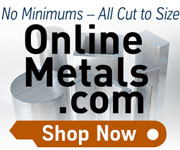 Tormach Personal CNC Machines
Tormach personal CNC milling machines are benchtop vertical bed mills. Tormach PCNC mills are used in prototyping, education, home shops, small-run production, custom manufacturing, and light industrial applications. Tormach PCNC mills are engineered from the ground up to provide years of service and affordable ownership with rigid cast iron construction, precision scraped sliding surfaces, proven mechatronics, and robust electronics. LittleMachineShop.com carries three models of Tormach PCNC Mills, the PCNC 770 Series 3, PCNC 1100 Series 3 and the PCNC 440. We also carry the Tormach 15L Slant Pro CNC Lathe, a multipurpose CNC Lathe that is ideal for the small shop. To view our full line of Tormach machines, tooling, CNC accessories, stands, cooling units and more, visit the Tormach brand link on our menu.
5045 Lathe CNC, Tormach 15L Slant Pro

15" Diameter swing over bed
3 HP Spindle (up to 3500 RPM)
D1-4 Nose with removable 5C taper Insert
25" Carriage
Conversational programming
The Tormach 15L Slant-PRO™ is a compact CNC slant-bed lathe designed for prototyping and light production work. With highly customizable workholding, rigid tapping support, and a host of configurable options and upgrades, the Tormach 15L Slant-PRO™ is a multipurpose CNC lathe for the small shop. This CNC lathe for sale can be accessorized with a wide array of tool changing and work holding options, including gang, quick change, or fully automatic tool changing, collet closers, etc. The available spindle speed range and horsepower make it well suited to cutting most metals, as well as plastics and non-abrasive composites. Conversational programming screens make this lathe a versatile prototyping tool and easy to program CNC tool. Many part geometries can be programmed on the control without resorting to CAD/CAM.
4263 Milling Machine CNC, Tormach PCNC 1100 Series 3

Personal CNC machine
Vector technology spindle drive 1100W continuous, 2800W peak
Table size: 34" x 9.5"
Travel: 18" x 9.5" x 16.25" (X, Y, Z)
High performance stepper motors with microstepping drivers
Whether you're in R&D, education, manufacturing, or simply have a great idea for a product, you need an affordable precision machine to make things happen. The PCNC 1100 Series II offers the serious machining capability, backed by industrial quality, which is so necessary to bring your ideas to life. With unprecedented affordability and value, the open architecture design combines cast iron construction with personal computer technology to address a wide variety of needs. At over 1100 lbs and with a 5000 rpm spindle, this personal CNC machine is fully capable of cutting iron, steel, titanium, and even chromium alloys like 300 or 400 series stainless. The machine's design is focused on the needs of prototyping, R&D, and small shop operations. The open design is better suited to combined manual and automatic operations than an enclosed VMC (vertical machining center), yet when combined with the Tormach machine stand you still have good chip and coolant containment and a clean shop. By limiting rapid motion to less than 100 IPM the machine is not only lower in cost, but also safer to operate. By replacing a conventional ATC (automatic tool changer) with the quick change Tormach Tooling System, the machine is both easier to afford and easier to maintain. Tooling cost is significantly lower, yet the tool change time is still less than 30 seconds. The Tormach PCNC 1100 Series 3 is built to industrial standards and perfectly suited to work cells in a lean manufacturing environment or dedicated secondary operations. The Tormach PCNC 1100 Series 3 is PC controlled, allowing your CAD and CAM software to coexist with the CNC control program. A single workstation takes your idea from concept to completion. Again, this reduces your machine cost and improves overall turnaround time. The control system uses standard industrial components and interfaces. This approach minimizes the initial cost, reduces maintenance cost, and virtually eliminates any risk of obsolescence. The combined effect gives you a highly reliable product with a low cost of ownership.
5349 Milling Machine CNC, Tormach PCNC 440

PCNC 440 milling machine
PathPilot™ Control System
4" CNC Vise
Basic TTS Tooling Set
Other accessories
A machine that fits all-around capability in a compact and affordable package, the PCNC 440 is perfect for anybody that wants to do real cutting, but doesn't have a lot of space. The PCNC 440 offers high-performance bipolar stepper motors with Leadshine micro stepping drivers. It also incorporates rolled C7 ball screws with anti-backlash double ball nuts. It has a cast iron frame and table with hand-scraped hydrodynamic ways and tapered adjustment gibs. The way surfaces are low friction PTFE-filled Acetyl bonded sliding surfaces similar to Rulon and Turcite.
3829 Milling Machine CNC, Tormach PCNC 770 Series 3

Personal CNC milling machine
Vector technology spindle drive 750W continuous, 1300W peak
Table size: 26" x 8"
Travel: 13" x 7.5" x 13.25" (X, Y, Z)
High performance stepper motors with microstepping drivers
The PCNC 770 was designed from the ground up as a CNC mill for the materials you cut the most. With a 10,000 rpm spindle and 130 IPM maximum feed rates, the PCNC 770 is a top performer when it comes to aluminum, light metals, and plastic – and still up to the task when you need to cut tough metals like stainless steel or titanium. Combined with a space-saving footprint, basic household 115 VAC power requirement, and innovative moving features, the versatile PCNC 770 is a perfect fit, no matter the size of your shop. The PCNC 770 is an affordable precision machine, designed for R&D, education, and hobbyists alike. It's got enough power and speed to get the job done, but with the flexibility that you need to adapt to a wide variety of projects – prototyping, model making, customization – even light production. The PCNC 770 is offered on an a la carte basis in order to meet the needs of a wide variety of users. The machine, computer, LCD and keyboard mount, stand, and 4th axis are each sold separately. We also offer CAD/CAM software, Tormach Tooling System, and a variety of helpful accessories. The base PCNC 770 mill comes without a stand or computer, but includes mill control software and all necessary cables.