Milling & Lathework for Beginners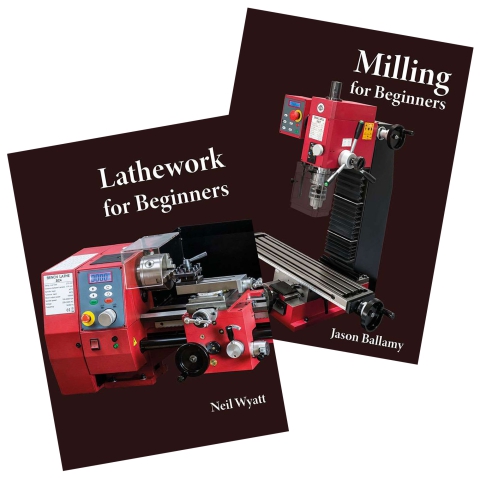 Milling for Beginners by Jason Ballamy
Lathework for Beginners by Neil Wyatt
Published October 2020
Based on SIEG SX2.7 milling machine & SIEG SC4 Bench Lathe
Part Number: 6374
Weight: 3.83 lb
$
55.95
On Sale
Regularly $59.95

A milling machine is an essential requirement for a metalwork shop.
This book is written to help beginners understand and equip a small vertical mill and get the best from it. It starts with a description of the different parts of the mill, spindle tapers and tooling, workholding equipment and a wide variety of cutting tools before going on to make some cuts.
More advanced workholding and positioning techniques using collet blocks and indexers are also explained as well as dividing and some of the many other uses for a rotary table.
Based around the SIEG SX2.7 milling machine the book goes on to demonstrate how to accurately machine and measure a practice piece before finishing off with the setting-up and machining of some odd shaped model engine castings.
A lathe is one of the most capable and versatile of machine tools, but its very flexibility can make it challenging for beginners to get good results.
This book is written with the aim of helping beginners understand their machine and get the best from it while working safely. It covers everything from finding your way around the various controls and adjustments on the lathe to advanced techniques such as boring and screw cutting.
It also covers accessories, ideas and techniques that will be of interest to more experienced metalworkers as well as giving much general advice on running a small workshop.
Based around the SIEG SC4-510 lathe, an up-to-date and well featured machine, the author has taken care to keep the content as generic as possible to make it equally useful to the user of any modern bench lathe