What's New!
HiTorque Machines In Stock
We have these HiTorque machines in stock and ready for shipment.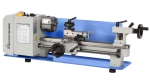 With its 500W brushless DC drive system, the 5100 HiTorque 7x16 Mini Lathe has the most low speed torque of any mini lathe. And features like the 4" 3-jaw chuck, cam-lock tailstock, full half-nuts, and apron gear shield make this lathe unique.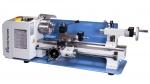 The 7350 HiTorque 7x16 Deluxe Mini Lathe incorporates all the goodness of our 5100 mini lathe, plus it includes an all-steel wedge-style quick change tool post set with five tool holders. In addition, the 7350 features digital readouts on the cross slide, compound rest, and tailstock quill, and it has metal handwheels instead of plastic.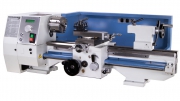 The 7500 HiTorque 8.5x20 Bench Lathe features a power cross feed--a unique feature in lathes of this size. The 1000W brushless spindle drive motor provides tremendous low-end torque and continuously variable speed from 100-2000 RPM in both directions. It features our new control panel, which allows you to stop and then restart the lathe at a pre-selected speed.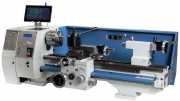 The 7550 HiTorque 8.5x20 Deluxe Bench Lathe has all the features of the 7500 bench lathe, plus it includes a DRO tablet that displays position of the carriage and cross slide; digital readouts on the compound rest and tailstock; an AXA quick change tool post set with five tool holders; anodized aluminum hand wheels, knobs, and levers with black anodizing in the hand wheels; and a full-length heavy-duty splash guard. In addition, the compound rest is modified to better accommodate a quick change tool post.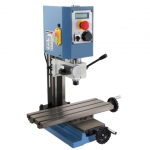 The 4700 HiTorque Micro Mill features a powerful 250W brushless spindle drive motor, which offers tremendous low-end torque, speeds from 100-5000 RPM, and no gears or belts to shift. (No gears also makes it the quietest in its class.) And at 15.7" x 5.7", the mill table is huge! It has a 2 Morse Taper spindle for wide tooling availability.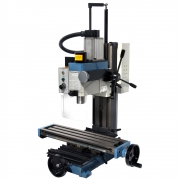 The 3990 HiTorque Mini Mill features an R8 spindle for wide tooling compatibility and a solid column for increased rigidity and reduced chatter. This mini mill has a larger X-Y table and more power (500W brushless DC drive) than its competitors.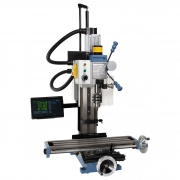 The 4190 HiTorque Deluxe Mini Mill expands on the 3990 with a 3-axis digital readout (DRO) with Bluetooth and 7" tablet display, an electrically interlocked spindle lock for easy and safe tool changes, and machined aluminum handwheels and painted drill handles.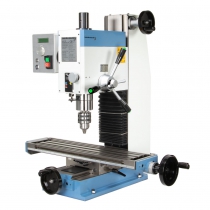 The 6500 HiTorque Bench Mill is a step up in size, rigidity, and power compared to a mini mill. It provides a larger table (23.4" x 5.5"), more travel, and more horsepower (750W). The HiTorque Bench Mill incorporates a true quill and drill press-style handles for easy drilling. A button on the end of each handle reverses the spindle to make tapping easy. The new control panel, originally created for our 6700 large bench mill, includes a digital spindle speed display.
The 6700 HiTorque Large Bench Mill is our largest mill -- a significant step up in size, rigidity, and power compared to a mini mill, or even our bench mill. This benchtop mill provides an even larger table (29.1" x 7.1"), more travel, and more horsepower (1000W). A simple belt change switches between low range and high range, giving you continuously variable spindle speeds from 80-5000 rpm.
Machines Currently Not in Stock
The machine you're looking for isn't shown above? Here is a list of the machines that we don't have in stock at the moment, along with their expected in-stock dates:
HiTorque Mills
6550 HiTorque Deluxe Bench Mill, October 30
6750 HiTorque Deluxe Large Bench Mill, September 30