Mini Mill Tooling
Indexing
Indexing is the process of turning a work piece a certain part of a circle between milling operations. A simple indexing operation is milling the flats on the head of a bolt. A more complex indexing operation is cutting gear teeth.
On mini mills, most indexing is done using a rotary table. The addition of dividing plates makes indexing easier. When working with relatively long work pieces, a tailstock can be used to support the end of the work piece. In many cases, a lathe chuck is mounted on the rotary table to hold the work piece.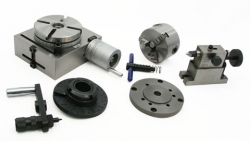 Indexing spacers and indexing spin jigs are also used for simple indexing.
Indexing Options
Part
Number
Product

3131

Rotary Table, 4" with Tailstock, Dividing Plate, & 3-Jaw Lathe Chuck

3791

Rotary Table, 4" with Tailstock, Dividing Plate, & 3-Jaw Lathe Chuck

3132

Rotary Table, 4" with Tailstock, Dividing Plate, & 4-Jaw Lathe Chuck

3792

Rotary Table, 4" with Tailstock, Dividing Plate, & 4-Jaw Lathe Chuck

5853

Rotary Table, 4" Digital Readout with Tailstock, Dividing Plate, & 3-Jaw Lathe Chuck

5854

Rotary Table, 4" Digital Readout with Tailstock, Dividing Plate, & 4-Jaw Lathe Chuck