Knurler, Large Capacity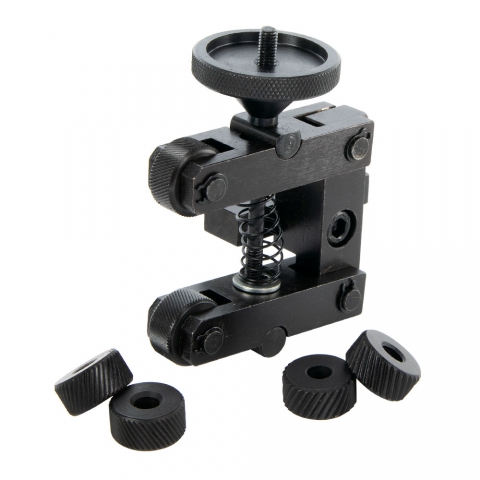 0 to 2" (50 mm) diameter capacity
Fits standard 4-way and quick change tool posts
Includes three sets of knurls
Part Number: 1911
Weight: 1.13 lb
Price: $71.95

This product is currently backordered.
Estimated availability:
21-Jul-2023
What is "estimated availability"?
Click this button if you want to receive an email notification when this product becomes available.

This scissors knurling tool is made to our design, specifically for the mini lathe.
This knurler fits in the standard tool post of the mini lathe without any modification. This knurling tool also works with any of the quick change tool posts we sell.
The mounting bar is 3/8" (9.5 mm) tall so it replaces a 3/8" tool bit.
It comes with fine (33 lines per inch, 0.8 mm pitch), medium (21 lines per inch, 1.2 mm pitch), and coarse (14 lines per inch, 1.8 mm pitch) diamond knurls.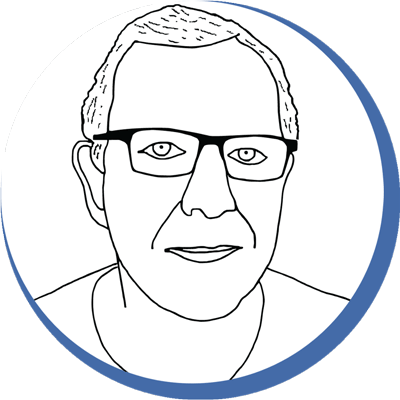 Chris' Tips
Here is how to figure out stock diameters for even knurls, based on work by Walt White. Knurling is usually pretty forgiving of the diameter of the stock you knurl, but if you use the diameters calculated you are pretty much guaranteed success.The knurls are held in place with 1/4" retaining rings. If you are going to change the knurls, go to your local hardware store and get some 1/4" retaining rings. (Or get them here.) The ones you get in the US will have proper holes for the pins of the retaining ring pliers and you will be able to re-use them. The retaining rings that come on the knurlers are pretty much one-use clips.
Compatibility
This product works with these LittleMachineShop.com products:
This product works with lathes with a 0.3 to 0.5 inch tool bit size including:
Grizzly G0745 4x6 Micro Metal Lathe
Harbor Freight 95012 Central Machinery 4x5 Micro Lathe
SIEG C0 4x5 Lathe
Proxxon PD 230/E 4.4x9 Lathe
Grizzly M1015 Shop Fox 6x10 Micro Lathe
Micro-Mark 85181 MicroLux 6x10 Micro Lathe
SIEG C1 6x10 Micro Lathe
Woodstock International M1015 Shop Fox 6x10 Micro Lathe
Enco 110-0803 Enco 7x10 Mini Lathe
Harbor Freight 33684 Central Machinery 7x10 Mini Lathe
Harbor Freight 93212 Central Machinery 7x10 Mini Lathe
MSC 0192857 Enco 7x10 Mini Lathe
Bolton CQ9318 7x12 Mini Lathe
Busy Bee Tools CX704 Craftex 7x12 Mini Lathe
Cummins (Tools Now) 5278 7x12 Mini Lathe
Eastwood 32497 7x12 Mini Lathe
Grizzly G8688 7x12 Mini Metal Lathe
Harbor Freight 93799 Central Machinery 7x12 Mini Lathe
Homier 03911 Speedway 7x12 Mini Bench Metal Lathe
LittleMachineShop.com 1014 LittleMachineShop.com 7x14 Mini Lathe
LittleMachineShop.com 1012 LittleMachineShop.com 7x12 Mini Lathe
Northern Tool 49656 KLUTCH 7x12 Mini Lathe
Princess Auto 8507659 Powerfist 7x12 Mini Lathe
SIEG C2 7x12 Mini Lathe
Tormach 30689 7x12 Duality Lathe
Travers Tools OT222300 OTMT 7x12 Mini Lathe
Warco 3004 7x12 Mini Lathe (Metric)
Warco 3005 7x12 Mini Lathe (Imperial)
WEN 3455 WEN 7x12 Mini Lathe
Micro-Mark 82500 MicroLux 7x12 Mini Lathe
LittleMachineShop.com 4200 HiTorque 7x12 Deluxe Mini Lathe
LittleMachineShop.com 4100 HiTorque 7x12 Mini Lathe
SIEG SC2 7x12 Mini Lathe
Micro-Mark 82710 MicroLux 7x14 Mini Lathe
LittleMachineShop.com 4959 SIEG 7x14 Mini Lathe
SIEG C3 7x14 Mini Lathe
Big Dog BD-0618Ax300 7x14 Mini Lathe
Big Dog BD-0618x300 7x14 Mini Lathe
Warco 4800-350 7x14 Mini Lathe (Imperial)
Warco 4820-350 7x14 Mini Lathe (Metric)
Grizzly G0765 7x14 Mini Lathe
Micro-Mark 84631 MicroLux 7x16 Mini Lathe
LittleMachineShop.com 7350 HiTorque 7x16 Mini Lathe
LittleMachineShop.com 5200 HiTorque 7x16 Mini Lathe
LittleMachineShop.com 5100 HiTorque 7x16 Mini Lathe
MX-8x14 Preenex (and others) 8x14 Lathe
Harbor Freight 44859 Central Machinery 8x12 Precision Mini Lathe
Grizzly G0768 8x16 Benchtop Lathe
LittleMachineShop.com 3536 HiTorque 8.5x16 Bench Lathe
SIEG SC4 8.5x16 Bench Lathe
SIEG C4 8.5x16 Bench Lathe
Travers Tools OT218410 OTMT 8x16 Bench Lathe
LittleMachineShop.com 3540 HiTorque 8.5x20 Bench Lathe
LittleMachineShop.com 3595 HiTorque 8.5x20 Deluxe Bench Lathe
LittleMachineShop.com 7550 HiTorque 8.5x20 Deluxe Bench Lathe
LittleMachineShop.com 7500 HiTorque 8.5x20 Bench Lathe
BD-920N Jet 9x20 Lathe
Grizzly G4000 9x19 Bench Lathe
Harbor Freight 45861 Central Machinery 9x20 Bench Lathe
Busy Bee Tools CX705 Craftex 10x21 Lathe Mill Combo
Grizzly G0516 10x21 Lathe Mill Combo
SIEG M6 10x21 Lathe Mill Combo